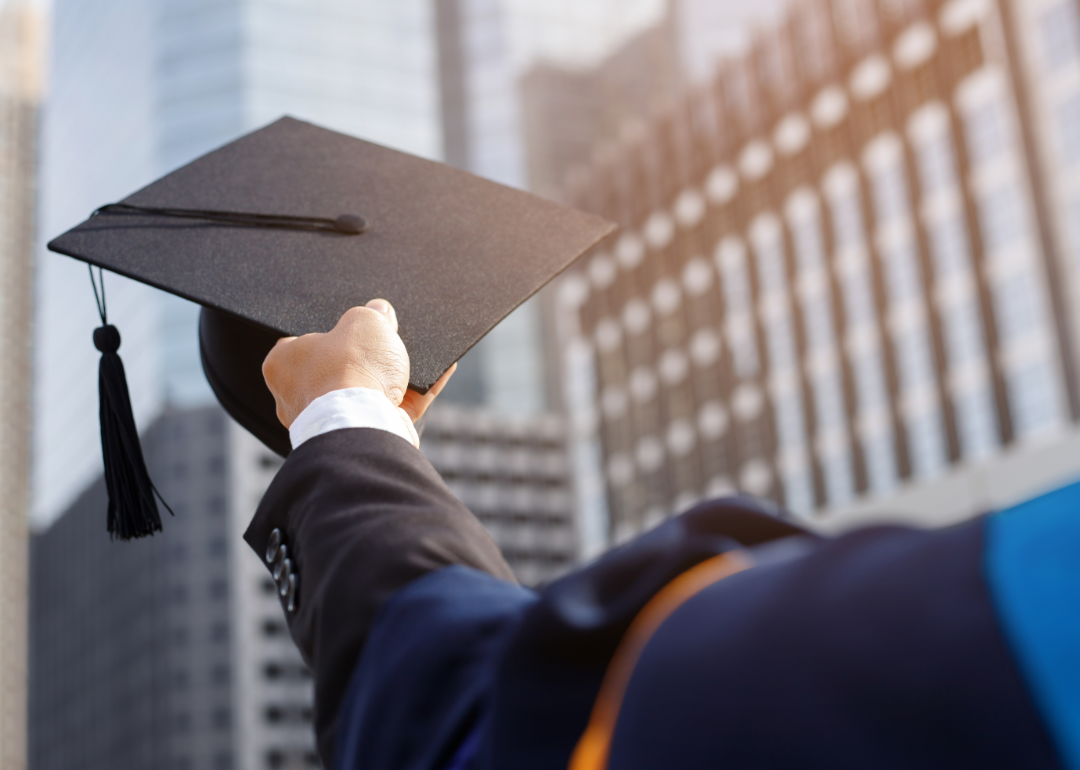 Canva
The fastest growing jobs for college graduates
A college graduate holds his mortar board high against the backdrop of office buildings.
The US job market remained strong in 2024, adding yet another 223,000 jobs in December. But the Bureau of Labor Statistics expects the labor market to calm down in the coming years, and it expects total employment to only grow 0.5% annually between 2024 and 2031which is half the growth rate between 2011 and 2024.
With these potential job changes in mind, SmartAsset Identify and rank the fastest growing jobs for university graduates. The study collected BLS data from 144 occupations that typically require a bachelor's degree and compared it using four specific metrics: percentage change in average earnings from 2020 to 2024, change in employment percentage from 2020 to 2024, projected change in employment from 2024 to 2031 and projected. Employment rate change from 2024 to 2031.
Main findings
Information security analysts remain in first place. For the second year in a row, the Information Security Analyst role is the fastest growing job for university graduates. Government data indicates that 56,500 more people will be employed in this booming field by 2031 than in 2024.
Entertainment and sports professionals had the largest increase in their earnings for a single year. Agents and business managers for entertainers, performers, and athletes saw their average earnings rise 18.7% to $116,410 in 2024. This is the largest single-year earnings jump of any profession tracked in this study.
Broadcast professionals and nuclear engineers will face the biggest job cuts. Broadcast and disc radio announcers are projected to lose the most in employment from 2024 to 2031 (-11.4%), followed by nuclear engineers (-11.1%).
---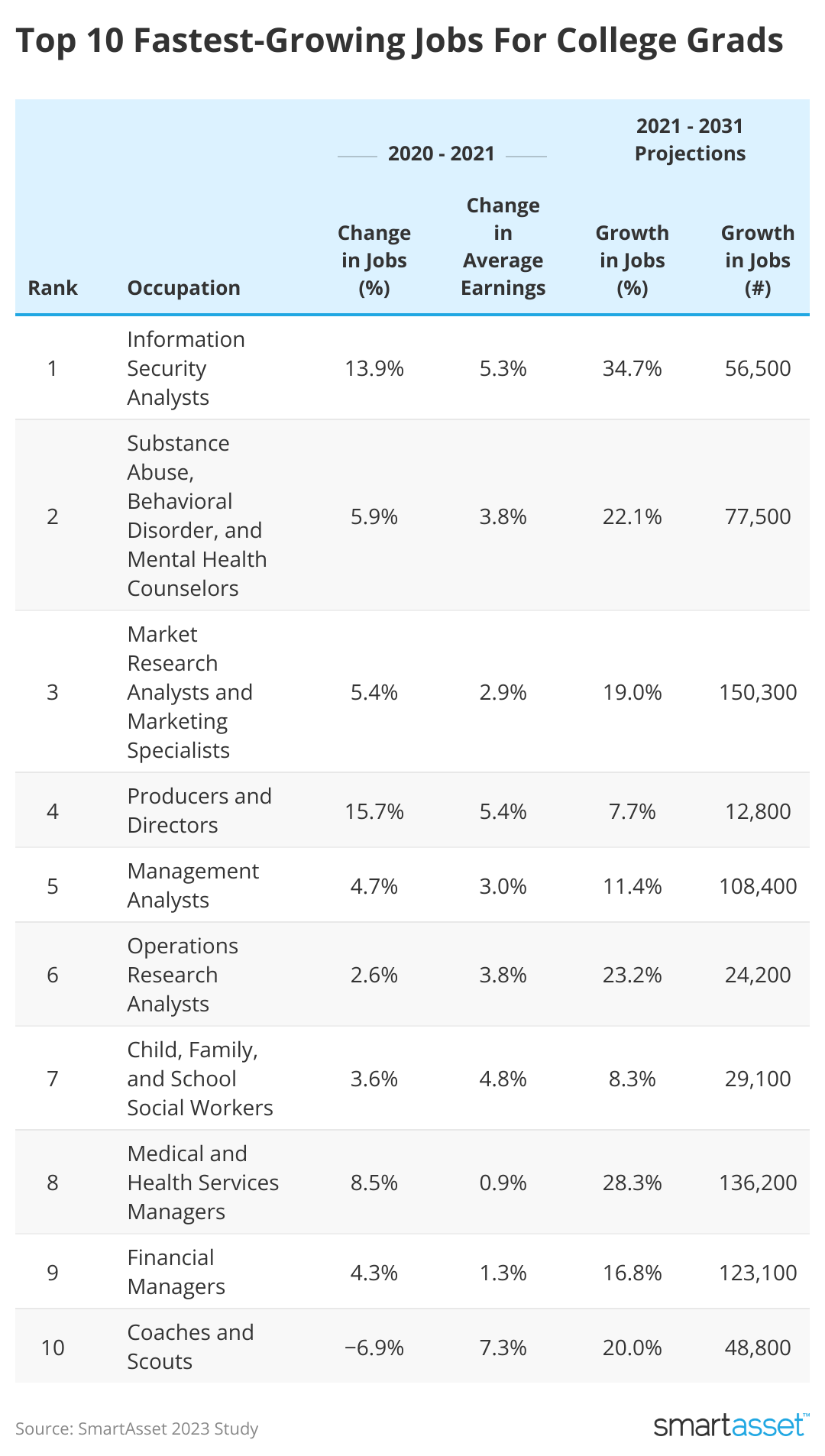 SmartAsset
Top 10 jobs expected to grow the most
Table showing the ten fastest growing jobs for college graduates.
1. Information security analysts
Information security analysts are responsible for protecting an organization's computer network and systems. Most people in this profession work for computer companies, consulting firms, or financial firms. The BLS field will grow by a whopping 34.7% by 2031, the largest projected 10-year change in our study. These tech professionals also saw their average earnings increase by 5.3% between 2020 and 2024, to $113,270 annually.
2. Substance abuse and behavioral disorder and mental health counselors
Substance abuse, behavioral disorder, and mental health counselors help people with a variety of issues related to alcoholism, depression, and other forms of addiction. These professionals earn an average salary of $53,490, and work with patients in mental health centers, community health centers, or through private practices. Employment is expected to expand 22.1% by 2031, the fifth largest increase across the study. By then, another 77,500 people will be working in this field, which is the ninth most out of the 144 occupations analyzed.
3. Market Research Analysts and Marketing Specialists
Market research analysts and marketing professionals evaluate potential sales of products and services by examining consumer preferences, economic conditions, and other factors. Those working in this field earned an average of $76,080 in 2024, up just 2.9% from the previous year. However, the BLS projects there will be an additional 150,300 people in the occupation by 2031, the third largest increase among the 144 occupations studied. At this rate, the field will grow faster (19%) than all but nine of the other occupations in the study.
4. Producers and directors
Employment of producers and directors grew by about 16% in 2024, the eighth largest single-year jump in our study. Producers and directors are responsible for making commercial and creative decisions related to film, television, theater, and other productions. These professionals saw their average earnings rise 5.4% between 2020 and 2024—the 13th largest increase across the study—to $101,950.
5. Management Analysts
Management analysts recommend strategies to improve the efficiency of a business or organization, often focusing on reducing costs and increasing revenue. The BLS expects this occupation to continue to grow in the coming years, adding 108,400 new workers by 2031. This projected increase ranks sixth of all 144 occupations in the study. Management analysts earned an average of $100,530 in 2024, up 3% from the previous year.
6. Operations research analysts
Operations research analysts help organizations solve problems and make informed decisions about business, healthcare, logistics, and other topics. These analysts have a variety of potential responsibilities, which may include helping the company allocate its resources or managing the supply chain. The BLS projects that employment in this field will rise 23.2% by 2031, the fourth largest percentage in the study. In 2024, earnings for operations research analysts averaged 3.8% to $95,830.
7. Social workers in the field of children, families and schools
Child, family, and school social workers focus on improving the social and psychological health of children and their families. Those working outside the school setting may help arrange adoptions or find foster homes for children, while those working within the school often deal with teenage pregnancy, misconduct, and truancy. The occupation had the 21st highest average wage increase in 2024, when earnings rose 4.8% to $54,880. The profession will add another 29,100 jobs by 2031, which is 23rd out of all 144 jobs in the study.
8. Directors of medical and health services
Medical and health services managers are responsible for managing health care facilities, clinical departments, or physician practices. While average earnings ($119,840) grew just 0.9% in 2024, employment in this field is expected to grow 28.3% by 2031 – second only to information security analysts. Meanwhile, the BLS expects another 136,200 people to be working in the field by 2031, the fourth most overall.
9. CFOs (tie)
With average earnings of $153,460, CFOs are responsible for the long-term financial goals of an organization. Their work often involves creating financial reports and directing the investment activities of the banks, investment firms, or insurance companies that employ them. According to the BLS, occupation is expected to grow 16.8% by 2031 and add 123,100 new jobs in that time, fifth across the study.
9. Coaches and Scouts (tie)
While coaches teach athletes skills in their respective sports, scouts are responsible for evaluating players for potential success in the amateur, college, or professional ranks. Average earnings for coaches and scouts increased 7.3% in 2024 to $50,550. This was the fifth largest jump in average earnings among all 144 occupations analyzed in the study. Employment is also projected to increase by 20% by 2031 (9th most), adding 48,800 new jobs over that period (16th most).
---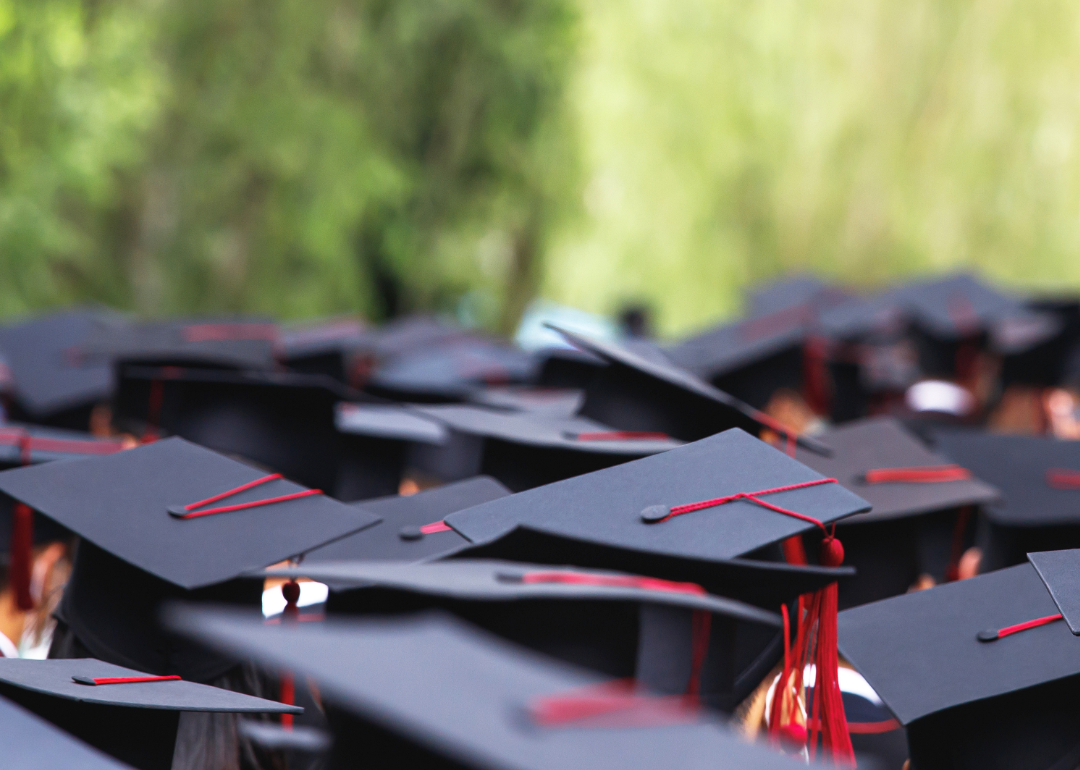 Canva
Data and methodology
A large group of graduates wear black mortar boards with red tassels
To find the fastest-growing jobs for college graduates, the study looked at data for 144 occupations that the BLS categorizes as typically requiring a bachelor's degree for entry. The study compared 144 professions across four measures:
Percent change in average earnings from 2020 to 2024. The data comes from BLS Occupational Employment Statistics and is for May 2020 and May 2024.
Employment percentage change from 2020 to 2024. The data comes from BLS Occupational Employment Statistics and is for May 2020 and May 2024.
Projected change in employment from 2024 to 2031 (total number). This is the projected change in the total number of people employed in an occupation from 2024 to 2031. The data comes from the BLS Employment Outlook 2024.
Projected employment change from 2024 to 2031 (% change). This is the projected percentage change in the number of people employed in an occupation from 2024 to 2031. The data comes from the BLS 2024 Employment Outlook.
The study ranked each occupation on each scale, giving full weighting to all four scales. The study then found the average ranking for each occupation and used that to determine the final score. The profession with the best average rating received a score of 100, while the profession with the worst ranking received a score of 0.
This story appeared in the original SmartAsset It has been independently reviewed to meet journalistic standards.
---