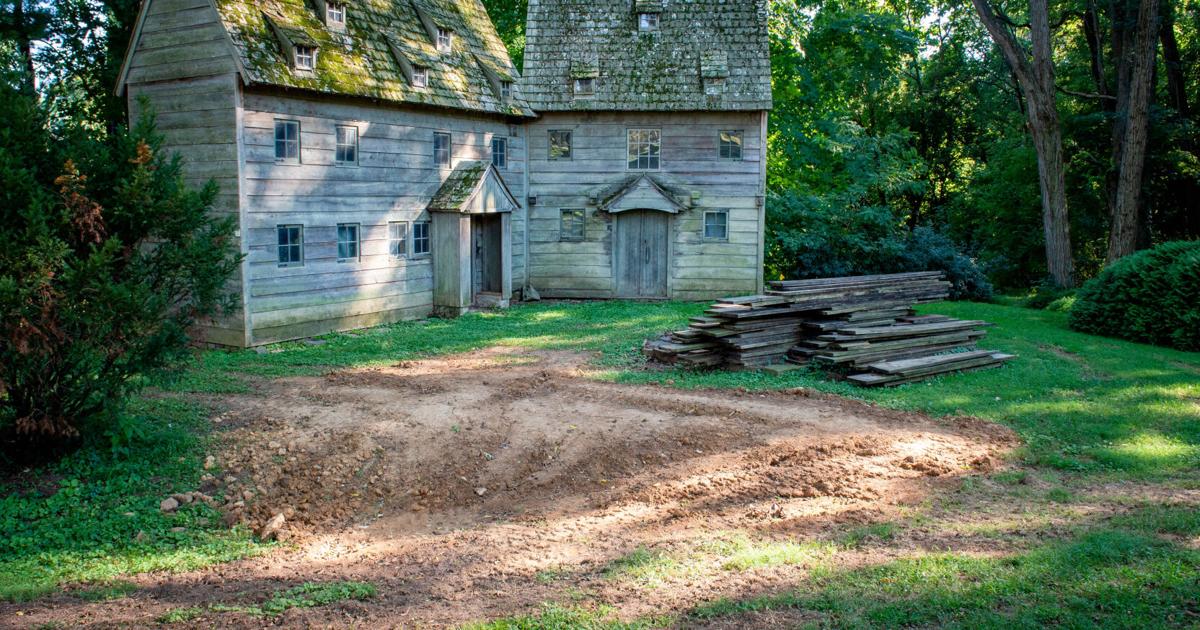 When Sue Fisher stands on the site of the historic Ephrata Cloister Amphitheater and looks out onto the hills overlooking the stage, she can see the future. and trying to imagine what a terrace would look like, and what happy people sitting and enjoying themselves on it would look like. Seats in the amphitheater filled to the brim with the performance of the popular Revolutionary War-era romantic musical "Volspiel," based on original music composed by Cloister founder Konrad Beissel.
Built for musicals, the venue remained a popular venue for weddings and concerts long after the final performance of Volspiel ended in the late 1980s. In recent years, however, the amphitheater has attracted more groundhogs than tourists. Reeds grew out of the shaded ground and the wooden benches deteriorated.
"The pandemic just made things worse," says Fisher of West Hempfield Township. "Bringing this back into shape has been the dream and goal of the (Ephrata Cloister Associates) board of directors for years. Before the pandemic, we really started talking about this. What will it cost?"
It currently receives input from Ephrata Cloister Associates — a 501(c)(3) nonprofit volunteer organization that supports historic sites — and ELA Group's architectural and engineering firm, as well as Ephrata Borough and the Pennsylvania Historical Museums Commission. The historic building is planning a renovation to transform the amphitheater back into a cozy community space.
Rick Jackson, vice president of the Lititz-based ELA Group, also envisions a day when amphitheaters are once again full of people.
"One day I'll be able to bring my grandchildren back to their first concert and they'll say, 'Poppy, I did this,'" says Jackson.
solicit donations
Fisher hopes the renovated historic Ephrata Corridor Amphitheater will bring the community together at events. But she also hopes that the community will come together and donate the cost of the project.
"It's important to note that no state funding has been put into the project," Fisher says. "We have not received any assistance from the Pennsylvania Historical Museums Commission. PHMC is not giving us money or trying to bail this out. This will be raised through donations. And , we plan to reach out to communities looking for donors interested in making this happen."
Fischer said anonymous donors have donated a large amount to help the project move forward, but more donations are needed to complete the renovation. Jackson said the estimated cost of the renovation is between $300,000 and he $450,000, depending on materials and other architectural choices.
Fisher said one of the plans for the donation is to install personalized carved paving stones along the aisles of the amphitheater. She also hopes that civic groups and businesses will be willing to donate money, resources and volunteer work to support the project. She says she has removed the wooden benches. She says she is currently looking for someone to help remove dead trees from the area.
"We hope to have something done by next spring," says Fisher. "But there are many factors at play here."
the right partnership
After several proposal meetings with various architectural firms, Cloister Associates met with Rick Jackson, Vice President of ELA Group, headquartered in Lititz.
"Within five minutes of meeting, we knew this was the partnership we wanted," says Fisher. "He really knew what we wanted and he had a kind heart for this project."
Jackson, who lives about a mile away from Ephrata's Cloister, says he's drawn to community projects like the Cloister Amphitheater, which combines history, music, and religion.
"Doing things that really enrich people's lives is what got me into architecture in the first place," says Jackson. "By and large, this is not the biggest project he has ever done for the ELA. But in many ways, it will be the most significant project we have ever done."
One summer weekend, Jackson began sketching ideas for a proposed amphitheater. It fits in with Cloister's traditional feel and is Americans with Disabilities Act compliant.
"When a project designs itself, it's kind of neat," says Jackson. "There is no big mystery about how to lay out the amphitheater with no obstruction of view, but really the focus is on how to make the space accessible to many people. is."
Jackson's sketched amphitheater design had a flat paved surface in front of the stage, with tiers of terrace-style seating cut into the hills to accommodate approximately 250-300 people. increase. range.
"People here didn't build an amphitheater, but what they did is they laid a foundation with stone. So if you can afford it, these walls need stone veneer." ', says Jackson. "PHMC has determined that some other raw materials are cheaper and acceptable to them, which I think is great."
Depending on the funding, Jackson offered many options for the construction of the stone terraces, ensuring adequate green space while adhering to the borough's requirements for storm drainage management.
"The Boroughs are really great to work with. "I think you understand that," says Jackson. There is a sense of cooperation between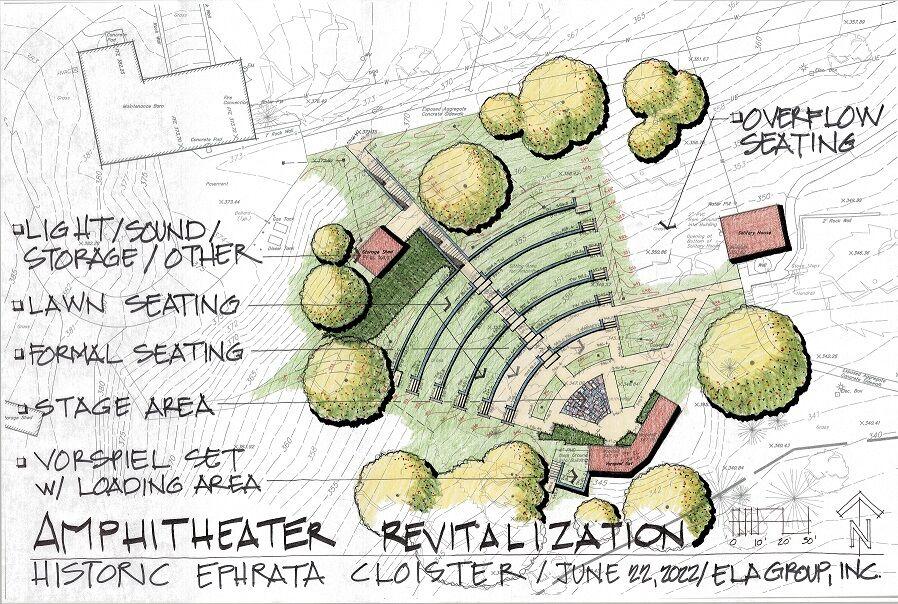 meaningful history
For Fischer, this project makes sense on many levels. The connection between Fischer and the field is deep. As a teenager, Conestoga began his 40-year career as his eighth-grade English teacher at Valley Middle School (now Gerald G. Huesken Middle School). did a tour. Now, since retiring from her teaching career, she has come full circle and returned to volunteering at The Cloister.
But her roots at the Croister property run even deeper than that. As she tours and overlooks the grounds of the historic Ephrata Corridor, Fischer remembers her ancestors.
"When I'm there, I look at the place and think my great grandparents walked down the same hallway I walk in," Fisher says.
Fisher's high, high, high, and great-great-grandparents Benjamin and Catrina Gorgas are members of the Cloistered Community and are buried in the Cloistered God Acre Cemetery. Her six times great aunt was a single sister from the community.
"That's one of the reasons why this project is so important to me," says Fisher. "And there are many reasons."
Preserving the nearly 300-year-old historic site and bringing the community together is another big reason Fischer is so passionate about the project.
"It would be great if we could keep this museum for another 290 years, and this amphitheater will be part of it in the future," says Fisher. "We are preserving the historic nature of this land and this museum. We are preserving our recent history in Vorspiel, but we are also creating a community gathering place. ."